Mike likes weird food. He grew up overseas and has a sophisticated palate, so he's not one to turn down food. I am a reformed picky-eater (Mike cooks all our meals so I can't be picky!) but I do have limits. Liver, tongue, brain: no thanks.
When we were dating Mike used to rave about Pho.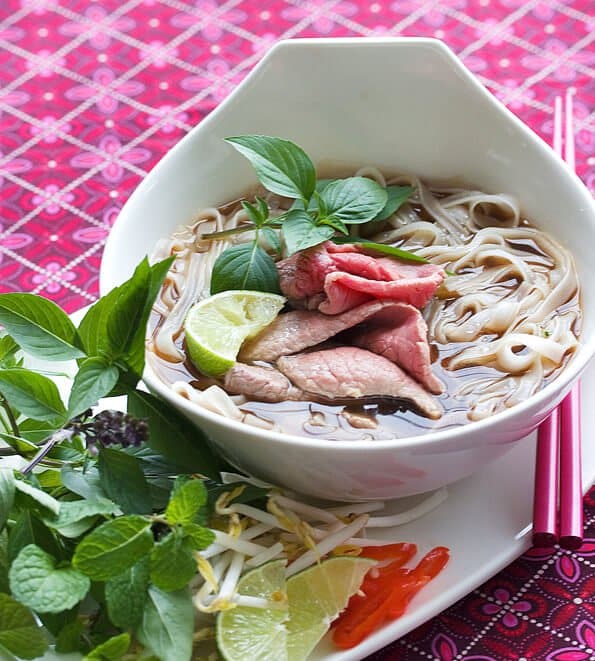 He would get it when he was sick and suddenly he's cured. Rainy days were made better by a hot bowl of Pho. I was a vegetarian at the time and the idea of beef broth with raw tripe floating in it made my skin curl. Needless to say I didn't get what the fuss was all about.
But over the years I've adapted my husband's motto of trying at least one bite. If I hate it, I don't have to eat it. Who knows? I might love the one food I'm refusing to try. But Pho was still out of reach, as the only options were beef and I haven't had a piece of red meat in well over 15 years.
And then, we found Pho City. And my life changed.
They offer Chicken Pho (Pho Ga for you pros out there!) and with one bite, I understood the years of praise Mike gave it. I finished the entire bowl in record time. A week later I insisted we get it again. And then two days later we had it again. You see where this is going.
Any time we come home after traveling we get Pho. Two weekends in Cleveland meant two Sundays of Pho. Our anniversary meal this year was Pho. When we were at the beach Mike looked at me and said "This trip is great, but I miss Pho."
Every Sunday is now Ponies and Pho Sunday.
We were gambling and getting Pho so often on this one day of the week that it became our first family tradition. And on Monday (delayed Pho Sunday since Mike was working) we hit a milestone. Mike texted me from the restaurant to tell me the server saw him and guessed our order. We are officially regulars!